Home » MPO Work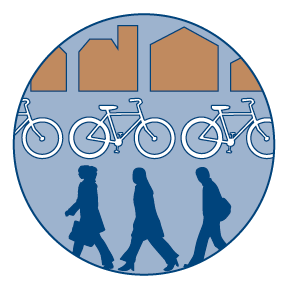 "Livability means being able to take your kids to school, go to work, see a doctor, drop by the grocery store or Post Office, go out to dinner and a movie, and play with your kids at the park – all without having to get in your car." — Ray LaHood, former U.S. Secretary of Transportation
The MPO engages in a variety of efforts to improve bicyclists' and pedestrians' safety, comfort, and ease of travel throughout the Boston region. MPO staff support the Boston region's bicycle and pedestrian planning needs through ongoing data collection, analysis, and technical assistance. The products of these planning activities include:
Data Collection
The MPO gathers data on bicycle and pedestrian volumes at locations throughout the Boston region and provides the travel counts online for public use.
Register to conduct a bicycle and pedestrian count.
Online Livability Resources
Analysis
Technical Assistance
Livable Community Workshops
The purpose of the Livable Community Workshop Program is to:
Educate communities about the concepts of livability
Encourage community awareness of how design influences livability
Facilitate discussion about how livability concepts may be incorporated into the host community
Each of the 97 cities and towns that make up the Boston metropolitan region are eligible to host a Livable Community Workshop. MPO staff plan and facilitate each event, along with local organizers, to help educate the selected community about livability and how its precepts may be incorporated into the municipality's planning efforts. Workshops are tailored to the needs or goals of the selected community.
Apply for a free community workshop on livability concepts and how they may be incorporated into your city or town.
For more information about the MPO's Bicycle, Pedestrian, and Livability Activities, please contact Casey Claude, MPO staff, at 857.702.3707 or cclaude@ctps.org.